An Ambitious Vision. 
A Natural Testament to Great Canadians.
The 2006 Plan
The landscape vision for the Veterans Memorial Parkway revitalization project was created by Ron Koudys, a London-based landscape architect. While there have been some refinements in plant/tree selection, the current direction of the project remains closely based on Ron's plan. View a sample the original 2006 VMP landscape plan.
It's A Tough Life for a Tree
Despite being planted with great care and professional attention, the thousands of trees going in along the VMP will face challenging conditions their entire lives. For starters, they're more exposed than most trees, and face temperature extremes and get little shelter from high winds. They're also living in soil conditions that vary significantly, and can include standing water in some seasons. Thus, the tree varieties must both drought and wet tolerant. Most importantly, given their proximity to an endless steam of cars and trucks, they must be resistant to pollution and salt. 
Sized to Survive
Originally, smaller seedlings were used along the parkway. However, their low survival rate prompted a change to larger tree stock. As of 2011, plantings now use trees that have a trunk diametre of approximate 50-60 mm. These trees can be over 3 m (10 ft) tall with root balls weighing several hundred pounds – and require professional volunteers and equipment from Landscape Ontario member companies for planting. Community volunteers take care of the backfilling, mulching and staking the newly planted trees.
Tree Species
The VMP Plan required careful selection of tree species that were non-invasive but would thrive with minimal maintenance, and blend with native plants and naturalization areas. Of critical importance in choosing the trees was their ability to tolerate the harsh realities of thriving along a major parkway. A blend of deciduous (leaf-bearing) and coniferous (needle-bearing) trees are being used. See below for descriptions of some of the species being planted along the VMP.
Colorado Spruce
This pyramidical tree with green-blue needles is the only evergreen being used in the VMP plan due to its hardiness. The drought tolerant conifer grows to a height of over 15-25 m (50-80 ft) with a spread of 6 m (20 ft) at the base.
Red Maple
A common species of eastern Canada that reaches heights of 18-27 m (60-90 ft) and lives up to 150 years. Extremely adaptable and able to thrive in a wide range of locations, it's an excellent shade tree with striking fall foliage.
Autumn Blaze Maple™
A hybrid of the Red and Silver Maple, these hardy, fast growing trees (0.9-1.5 m per year) are very resistant to disease and automobile exhaust, as well as ice and wind damage. They reach a height of 50' and feature brilliant fall colour.
Redmond Linden
An excellent shade tree with a strong branch structure, this Linden tolerates automobile exhaust very well. Growing to a height of 19-23 m (65-75 ft), it produces clusters of fragrant yellow blooms in June/July. 
Paper Birch
Noted for its distinctive white bark at maturity and rich green foliage, this medium sized tree grows to heights of 16-30 m (54-98 ft). The trunk often divides low on the tree into several arching branches.
Serviceberry
These hardy, smaller-scaled multi-stem trees are actually part of the rose family. Their eye-catching spring flowers and purple berries make them a friend of local birds and wildlife. 
Time Line
A project on this scale requires a long term vision. The inspiration for it was sparked in 2005 with the re-naming of Airport Road to Veterans Memorial Parkway. The time line below highlights some of the key points in the project's history up to this point. To see the annual goals leading up to the project's completion in 2017, scroll down to the Dollars & Cents section.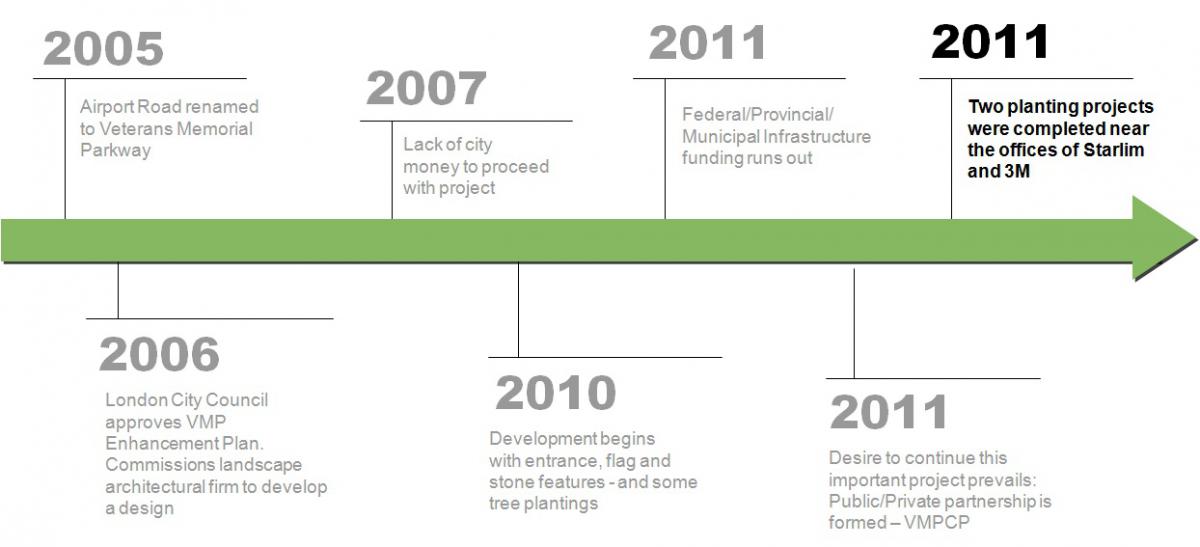 Budget
After an initial investment totalling $1,000,000 by all three levels of government, several elements of the VMP plan were completed: the Entrance feature at the 401, the Flag feature at Bradley Ave., four Commemerative features between Gore Rd. and Bradley Ave., and tree and shrub plantings between the 401 and Hamilton Rd.
Since then, the project has been funded primarily by corporate sponsors, foundations, and other fund-raising efforts. 
The Numbers
$2.6 Million in Fundraising
$1.2 Million in Donated Services-in-Kind
32,000 Hours in Volunteer Time
$4.0 Million in Value to the City